PNI RENAL. CURCUMA
BENEFICIOS DE LA CURCUMA PARA TU SALUD RENAL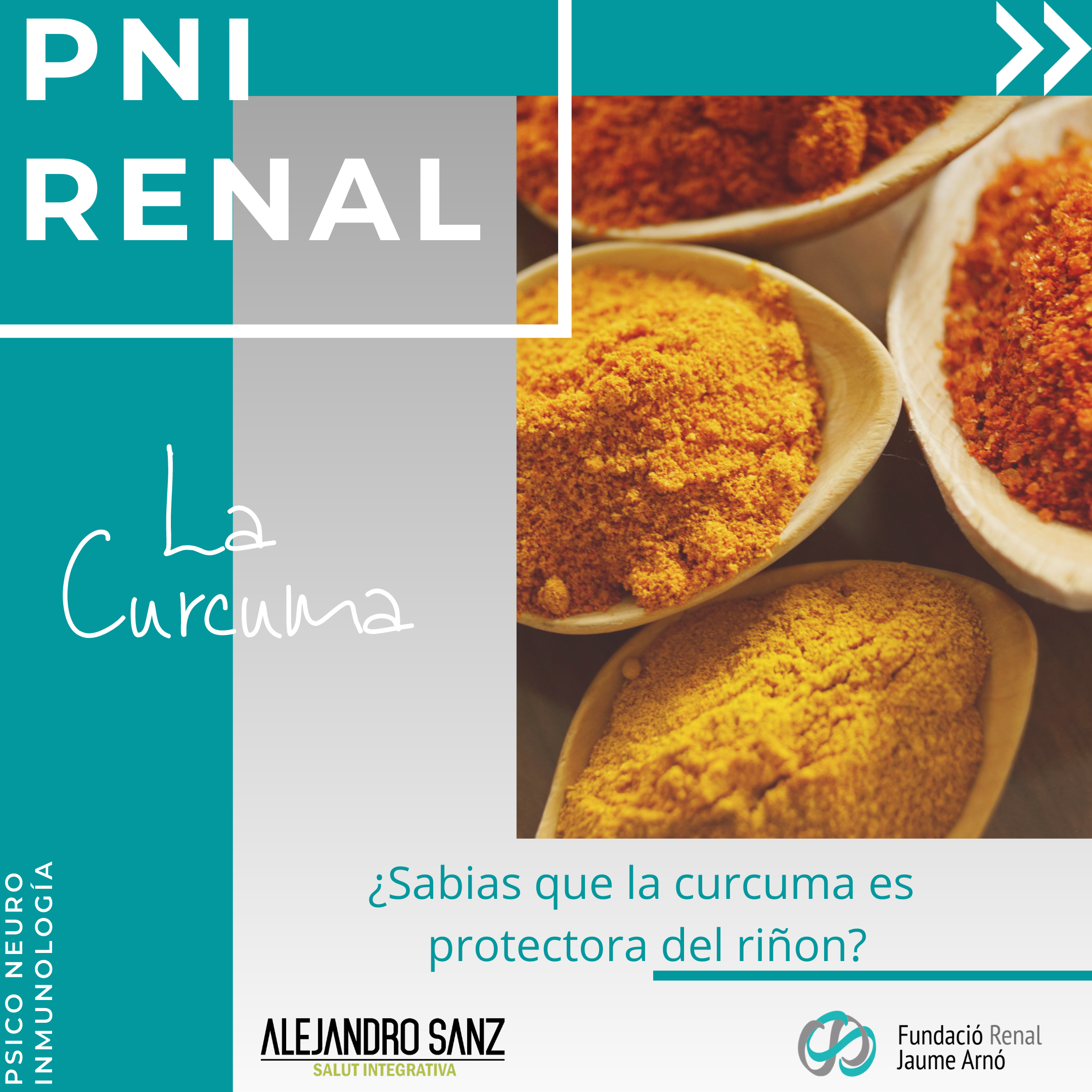 ¿Sabias que la curcuma es protectora del riñon? (1)
1-
Effective Nephroprotection Against Acute Kidney Injury with a Star-Shaped Polyglutamate-Curcuminoid Conjugate.
Scientific Reports
  volume 10, Article number: 2056 (2020) 
2-Renoprotective effect of the antioxidant curcumin: Recent findings. Redox Biology Volume1, Issue 1, 2013, pages 448-456.
Otros efectos:
-Antioxidante renal (2)
2-Renoprotective effect of the antioxidant curcumin: Recent findings. Redox Biology Volume1, Issue 1, 2013, pages 448-456.
-Antiinflamatorio renal (3)
(3)Curcumin and chronic kidney disease (CKD): major mode of action through stimulating endogenous intestinal alkaline phospatase. Molecules, 2014, 19 (12): 20139-20156.
-Previene la fibrosis  y el envejecimiento/deterioro del tejido renal(4)
(4)Recent advances of curcumin in the prevention and treatment of renal fibrosis. Biomed Research International, Volume 2017, Art. ID 2418671
-Enlentece el progreso de la ERC(5)
(5)Curcumin ameliorates kidney function and oxidative stress in experimental chronic kidney disease. Basic and Clinical Pharmacological and Toxicology, Volume 122, Issue 1, pags. 65-73.
-Disminuye el estado inflamatorio, tanto en personas en dialisis como en trasplantados renales.(6)
(6)Evaluation of curcumin effect on inflammation in hemodialysis patients.Clinical Nutrition, Volume 22, pags 19-23, december 01, 2017
-Inhibe el crecimiento de quistes en la Enfermedad Poliquistica Renal.(7,8,9)
(7)Curcumin inhibits cystogenesis in autosomal dominant polycystic kidney disease cells via altering JAK2/STAT3 activity. Biorxiv, august 2018.
(8)Curcumin inhibits renal cyst formation and enlargement in vitro by regulating intracellular signaling patwhays. European Journal of Pharmacology, Volume 654, Issue 1, march 2011, pags 92-99.
(9)Renal expression of JAK2 is high in policystic kidney disease and its inhibition reduces cystogenesis. Scietific Reports, 9, art. number 4491.
-Mejora la glomerulonefritis y la glomerulonefritis lúpica (10,11)
(10)Curcumin alleviates immune-complex-mediated glomerulonephritis in factor-H-deficient mice. Inmunology, Volume 139, Issue 3, pags 328-337.
(11)Curcumin attenuates lupus nephritis upon interaction with regulatory T cells in New Zealand Black/White mice. Birtish Journal of Nutrition, nov 2012.
-Mejora y previene la lesión renal diabetica.(12,13)
(12)Curcumin as a major active component of turmeric attenuates proteinuria in patients with overt diabetic nephropathy. Journal of Research in Medical Sciences, 2019, 24:77.
(13)Curcumin ameliorates diabetic nephropathy by suppresing NLRP3 inflammasome signaling. Biomed Research International, 2017, 1516985.
-Ayuda a recuperar masa muscular y masa osea en personas con ERC.(14).
(14)Recovery of bone and muscle mass in patients with chronic kidney disease and iron overload on hemodilysis and taking combined supplementation with curcumin and reveratrol. Clinical Interventions in Aging, 2019, 14:2055-2062. 
-Mejoró los resultados de función renal después del trasplante (15)
Beneficial effects of the bioflavonoids curcumin and quercetin on early function in cadaveric renal trasplantation: a randomized placebo controlled trial. Transplatation, 80 (11):1556-9. 
-Dsiminuye el riesgo cardiovascular tanto en personas con ERC como en trasplantados renales. (16)
(16) Antioxidant supplementation in renal replacement therapy patients: is there evidence?. Natural and Syntetic Antioxidants, Volume 2019, ID 9109473.
Juan José Gascó Esparza
Fisioterapeuta
paciente renal empoderado.